Vanilla Crunch
Vanilla cake soaked with vanilla milk and filled with vanilla Swiss meringue buttercream and Vanilla Crunch. Iced in vanilla Swiss meringue buttercream.
6″ – $39
Chocolate Crunch
Chocolate cake filled with chocolate mousse and Chocolate Crunch. Iced in chocolate Swiss meringue buttercream.
6″ – $39
Red Velvet
Red Velvet cake soaked with vanilla milk and filled with cream cheese frosting. Iced in vanilla Swiss meringue buttercream.
6″ – $39
Carrot Cake
Carrot cake filled with cream cheese frosting and iced in a vanilla Swiss meringue buttercream.
6″ – $41
Coconut Cake
Coconut cake soaked with toasted coconut-infused milk and filled with coconut cream cheese and toasted coconut. Iced in vanilla Swiss meringue buttercream.
6″ – $41
Lemon Burst Cake
Lemon cake soaked with lemon syrup and filled with lemon curd. Iced in vanilla Swiss meringue buttercream.
6″ – $41
Strawberry Cream Cake
Vanilla cake soaked with vanilla milk and filled with freshly sliced strawberries and whipped cream. Iced in vanilla Swiss meringue buttercream.
6″ – $41
Chocolate Peanut Crunch Cake
Chocolate cake filled with peanut butter mousse and roasted peanuts. Iced in chocolate Swiss meringue buttercream.
6″ – $41
Raspberry Cream Cake
Vanilla cake soaked with vanilla milk and filled with raspberry cream and fresh raspberries. Iced in vanilla Swiss meringue buttercream.
6″ – $41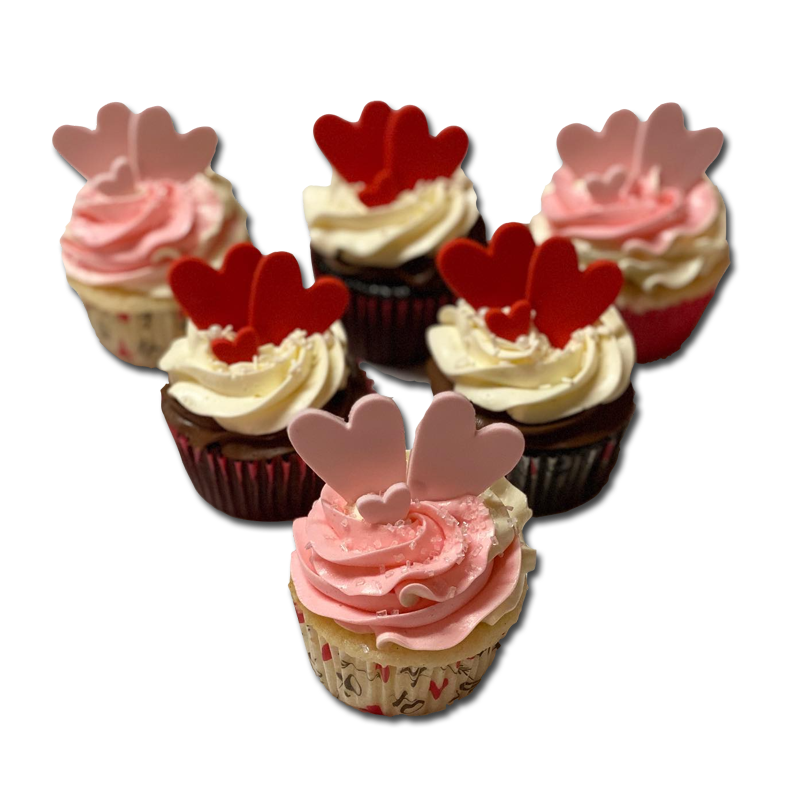 Cupcakes, Cookies, & More
Minimum of (12) per flavor, per order
Vanilla Crunch Cupcake
Vanilla cupcake topped with vanilla Swiss meringue buttercream and Vanilla Crunch.
$2.75/ea
Chocolate Crunch Cupcake
Chocolate cupcake topped with chocolate Swiss meringue buttercream and Chocolate Crunch.
$2.75/ea
Strawberry Crunch Cupcake
Strawberry cupcake topped with vanilla Swiss meringue buttercream and Strawberry Crunch.
$2.75/ea
Red Velvet Cupcake
Red velvet cupcake topped with cream cheese frosting.
$2.75/ea
Chocolate Peanut Butter Cupcake
Chocolate cupcake topped with peanut butter buttercream and roasted peanuts.
$2.75/ea
Lemon Burst Cupcake
Lemon cupcake filled with lemon curd and topped with vanilla Swiss meringue buttercream.
$3.00/ea
Raspberry Cupcake
Vanilla cupcake filled with raspberry cream and topped with raspberry Swiss meringue buttercream.
$3.00/ea
Cutout Cookies
Minimum of 12 per shape, per order.
Decorative cutout cookies made from scratch.
Prices start at $3 per cookie and go up depending on detail and decoration.
Price per pound: $22 / pound (25-30 cookies) for one shape. 
All menu items are made-to-order but may require up to 5 days for fulfillment. To order a menu item or check availability contact the bakery using the contact form below.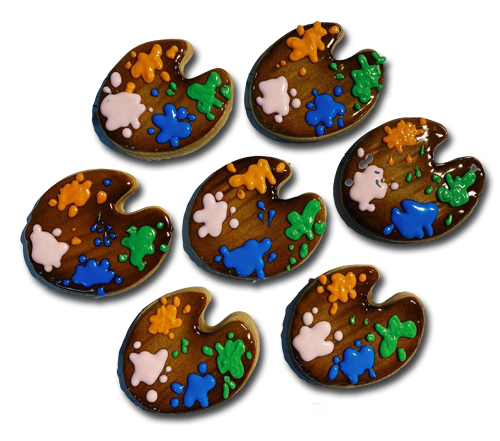 Need Something Custom Made?
In addition to our standard assortment of cakes, we specialize in making custom-designed cakes to help make any celebration special and memorable. Whether you are celebrating a baby shower, birthday, anniversary, graduation, promotion/retirement, or just want to make a holiday a little more special, we can create a custom and delicious cake that is sure to make an impression.
A picture is worth a thousand Mmmms…